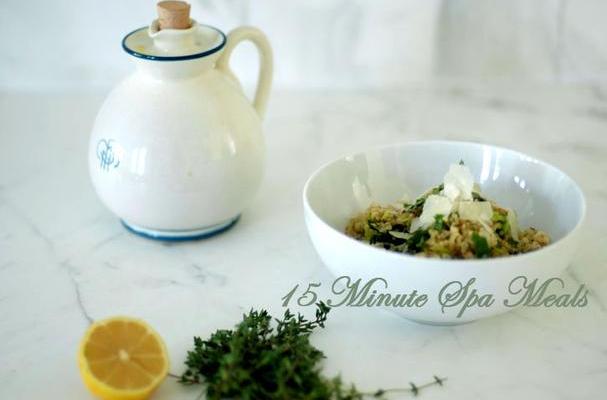 Lately, I've been craving lots of light and vibrant meals – the sort of cuisine you might find at a spa. I've found that when I eat more fresh produce including leafy green lettuces, crunchy vegetables and some sweet fruit, my eyes are brighter, my skin glows, I feel calmer ⎯and quite honestly ⎯ I'm happier too. If you too are looking to line up a lunch or brunch this week to nourish, energize, purify and restore your spirit, give this warm Thyme Quinoa Salad a try.
Thyme Quinoa Salad
Serving Size: 2 (500 calories per serving with cheese)
Ingredients
1 cup quinoa, dry
2 cups vegetable stock
1 tablespoon extra-virgin olive oil
2 cups whole Brussels sprouts, trimmed and sliced into quarters*
4 sprigs fresh thyme, stems removed
1 clove garlic, minced (optional)
1/2 teaspoon sea salt and 1/4 teaspoon pepper
1/4 cup parmesan cheese, freshly grated
juice 1/2 lemon
handful fresh parsley, stems trimmed, roughly chopped
* If you're feeling particularly fabulous, julienne the Brussels sprouts.
Better-for-you ingredients
Learn more about the better-for-you ingredients in this recipe:
Quinoa – Quinoa (KEEN-wah) is actually not a grain but a type of seed. It provides a complete protein, making it a popular staple in veggie-focused diets. Quinoa contains ~6 grams of protein per 1/4 cup serving. Health beauties often swap in quinoa in place of rice in many recipes.
Directions
Prepare the quinoa by combining 2 cups of vegetable stock with 1 cup uncooked quinoa in a medium saucepan. Bring to a boil, then reduce the heat and allow to simmer for 20 to 25 minutes, until the quinoa is fluffy and there is just a splash of broth at the bottom of the saucepan. Turn off the heat and allow quinoa to sit for 2-3 minutes until the remaining drop of broth is absorbed. Fluff with a fork and set aside.
Meanwhile, in a large frying pan place olive oil, garlic and shallot over medium heat. When the shallot and garlic become fragrant (2-3 minutes) add the Brussels sprouts, thyme leaves (stems removed), salt and pepper. When the Brussels sprouts just begin to brown around the edges, turn off the heat and set aside.
In a large serving bowl, combine the quinoa with the Brussels sprouts and thyme. Add a squeeze of fresh lemon juice, toss in the parsley and fold in a small handful of freshly grated parmesan cheese. Toss again. Serve immediately!