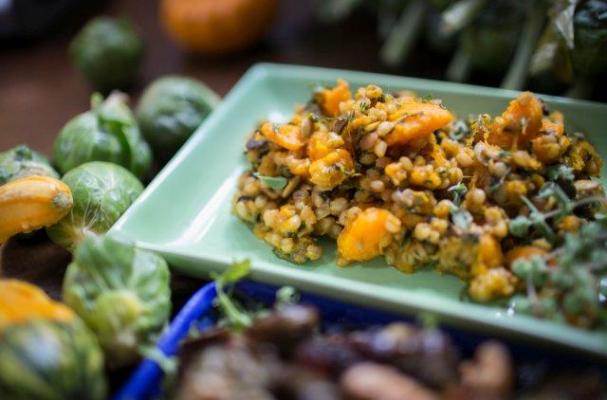 Vegan wheat berry and roasted butternut squash stuffing from FEED Body & Soul is a Thanksgiving favorite. Chances are that there will be at least one person around your table with special dietary restrictions. This dish is suitable for vegans, vegetarians, and omnivores. Wheat berries, a hearty whole grain, are chewy and robust and pair deliciously with the sweet roasted butternut squash. The toasted pumpkin seeds (also known as pepitas) add a nutty flavor and crunch to the stuffing. Vegan or not - this stuffing is sure to be devoured by all.
Roasted Squash and Wheat Berry Stuffing
Ingredients:
Part 1
¼ tsp Extra Virgin Olive Oil
½ c. Spanish Olives (diced)
1 c. Wheat Berry(whole)
4.5 c. Water
1/8 tsp Fresh Thyme
1/8 tsp Fresh Marjoram
½ tsp Kosher Salt
Cracked Black Pepper (to taste)
3 Red Chard
Part 2
1 Squash (Red Kuri, Pumpkin, or Acorn)
Extra Virgin Olive Oil
Kosher Salt
Part 3
1 Zucchini (diced)
4 tbsp Pepitas
Directions:
Part 1
1. Sauté onions with the Extra Virgin Olive Oil, add wheat berries, herbs, salt, pepper, and water
2. Bring to a boil then cook on medium
3. After 30 minutes, add diced red chard stems (1/2 cup)
4. After 45 minutes, add red chard leaf ribbons (1 cup), cook for one minute to soften chard and pull from heat
Part 2
1. Quarter and seed your squash (red kuri, pumpkin or acorn depending on what is available.)
2. Rub lightly with extra virgin olive oil and salt
3. Place into a 400 degree oven skin side down for 45 minutes, or until flesh is soft|
4. Pull the flesh from 2 of the squash quarters for a total of 2 cups and put into grains
Part 3
1. Do a large dice of your zucchini (about 2 cups)
2. Put into a screaming hot blackening pan and cook on one side until squash softens, flip and cook for about 30 more seconds
3. Wipe pan, turn pan to the lowest of low heat and add pepitas into the still hot pan
4. Toast pepitas until they pop
Want more from Foodista? Sign up below!