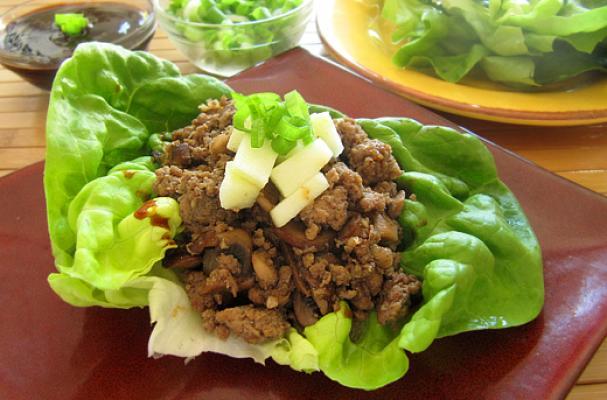 Spiced turkey lettuce wraps from Home Skillet Cooking are a low carb meal. Ground turkey is flavored with ground ginger, cinnamon and allspice. Chopped cremini and shitake mushrooms are added to the mixture along with oyster sauce and soy sauce. Each lettuce cup is topped with a tart Granny Smith apple salsa. These Asian inspired wraps are an easy dish that can be cooked any night of the week.
Ingredients:
4 tablespoons peanut oil, divided
8 ounces cremini mushrooms, diced
2/3 cup shiitake mushrooms, diced
20 ounces ground turkey
½ teaspoon freshly ground black pepper
½ teaspoon ground cinnamon
½ teaspoon allspice
½ teaspoon ground ginger
½ teaspoon toasted and ground coriander
5 cloves garlic, minced
3 ½ tablespoons soy sauce
1 ½ teaspoons rice wine
1 tablespoon oyster sauce
1 Granny Smith apple, peeled and diced
3 scallions, chopped
1 head butter lettuce
hoisin sauce, for serving
Directions:
Heat 3 tablespoons peanut oil over high heat in a large skillet.
Add the cremini and shiitake mushrooms.
Get those mushrooms nice and brown, stirring often, about 5 minutes.
Remove from pan and set aside.
In a small bowl, mix the black pepper, cinnamon, allspice, ginger, and coriander.
Place the ground turkey and spices in a large bowl and mix together with a fork.
Add another tablespoon of peanut oil to the skillet and heat over medium-high heat.
Add the spiced turkey meat.
Sauté until browned and cooked through.
Add the mushrooms back into the skillet.
In a small bowl, combine soy sauce, rice wine, and oyster sauce.
Pour over the meat and mushroom mixture.
Reduce the heat and let everything cook together for a minute or two.
To assemble the wraps, brush hoisin sauce on a leaf, pile on the meat mixture, then add the scallions and apple.
Image Sources: