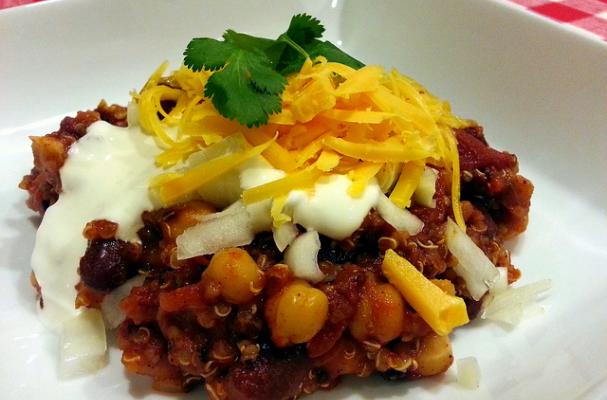 I like to call this a pantry basic meal because I happened to have all the basics already in my pantry: beans, tomatoes, chili seasoning and quinoa. For me, quinoa is a must-have pantry basic as it's perfect for quick dinner nights. It's versatile, healthy, hearty and it cooks up in minutes without needing constant stirring.
Meat lovers, don't let the fact that this is a vegan recipe deter you. It's full of flavor, is completely satisfying and, best of all, it's heart-healthy, gluten-free and super low fat (and that's coming from someone who loves meat). Even our 3-year-old daughter gave it the thumb's up!
Quick and Easy Vegan Chickpea and Quinoa Chili
Serves 4
2 14-ounce cans diced or chopped Italian tomatoes
1 can kidney beans, drained
1 can chickpeas, drained
1 envelope chili seasoning
1/2 cup Ancient Grains INCA Red Organic Gluten Free Quinoa (or any quinoa)
1 cup water or stock
Optional toppings:
Diced onion
Cheddar or vegan cheese
Sour cream, plain yogurt or vegan sour cream
Chopped cilantro
Add tomatoes, beans and chili seasoning to a medium pot and heat over medium-high.
In a separate pot, cook quinoa in water or stock until done (about 20 minutes). Fluff quinoa and add to beans. Stir until ingredients are combined.
Spoon into bowls and serve add your favorite toppings.