Premier Sponsors
For Sponsorship Opportunities please contact
Reno Walsh
406-580-5919
or
IFBCSponsors@foodista.com
The Search for Real Food at IFBC with Nutiva CEO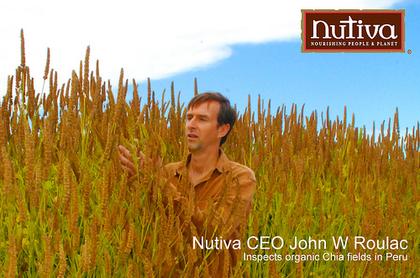 Exploring the role of industrial food, GMOs, the authentic food movement, and how social media is changing the food industry.
In America, we live in a country where food choices are abundant, yet we are removed. Most people don't want to give a second thought as to how these foods are produced, and most people don't want to know that all of that colorful, diverse abundance is losing its nutritional value as well as becoming more toxic. However, a growing minority is questioning our food system, and is demanding more transparency.
Much of the nation consumes packaged foods, meat and milk made from GMO corn and soy.This undermining of a centuries old life-sustaining food system is playing out worldwide. What's real anymore? What the industrial food complex now lacks in bio-diversity it makes up for in fast growing genetically modified organisms (GMOs or GE's). Check out what FarmAid.org is saying:
"GMO crops present real risks, fewer choices for both farmers and eaters and offer unclear benefits except to the companies that develop and market them... GE crops pose additional environment risks, such as threats to biodiversity or unintentional harm to other insects and animals in the ecosystem... .... But remember, there's absolutely no recall on GE genetics. Once they're out there, they're out there for good." Read More here
Have we become so detached that it's all but taken over? Not yet. According to John Roulac, Founder and CEO of Nutiva certified-organic superfoods, "The current industrial food model is broken. People are waking up to the fact that food choices matter, and no healthcare plan is going to solve the issue of eating industrial goop sold as food."
More and more Americans have figured out something just isn't right with our food system and have started grassroots movements with the goal of preserving authentic foods, plants and seeds, as well as sustainable farming practices. Thanks to the Internet and social media, information about unhealthy industrial food production is going viral. And, the ability to share worldwide efforts to grow organic food with sustainable practices is on the rise. Americans are re-discovering how cultures around the world have nourished their bodies and sustained the soil for thousands of years.
Some of these ancient crops such as coconut, hemp and chia are becoming increasing popular in mainstream culture. At the same time, Americans are learning about "pink slime" in their hamburgers, melamine in their milk and GMO's in their baby food. Moms and bloggers are rising up and sharing about a different way to enjoy food.
On Sunday morning during breakfast, join Nutiva Founder and CEO John W. Roulac, to find out how bloggers such as you all are changing the world. For more information about certified organic coconut oil, hemp and chia, go to www.Nutiva.com
.
Who Should Attend
Bloggers, Food Writers & Cookbook Authors
Publishers, Agents & Editors
Food Brand / Restaurant Marketers
Public Relations Professionals
Registration
IFBC 2013 Registration
For non-blogger participants: industry, media relations professionals, etc.
Fee: $395
IFBC 2013 Discounted Blogger Registration*
For active bloggers
Fee: $95
*New in 2013! See registration for qualifying details.
Food Bloggers Register here!
Fee: $95 for Food Bloggers, $395 for Non-Bloggers
Including gourmet food and drinks!
Conference Information
Subscribe to the IFBC Mailing List