Premier Sponsors
For Sponsorship Opportunities please contact
Reno Walsh
406-580-5919
or
IFBCSponsors@foodista.com
Travel Oregon Live Blogging Brands at IFBC 2012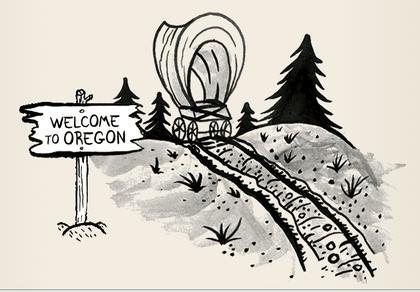 Weekend before last Travel Oregon hosted an amazing selection of Oregon's best producers in a Live Blogging session at IFBC. We're excited to announce that this session trended in the Top 10 on Twitter, at times hitting #1! For a look at who joined in on this fantastic session see below:
Southern:
Rogue Creamery
Inspired by a sense of place for 80 years, Rogue Creamery draws from the beauty and flavors of Southern Oregon's Rogue River Valley to create eight handcrafted blue cheeses, cheddar cheeses and TouVelle. Over the last half century, Rogue Creamery blue cheeses have received international acclaim. The certified sustainable whole milk they use to make these original blues comes from Rogue Creamery's exclusive dairies along the banks of the rugged and scenic Rogue River. @ROGUE_CREAMERY
http://www.roguecreamery.com
Central:
Well Traveled Fork – Chef Bette Fraser
Surrounded by the natural beauty of Central Oregon, Chef Bette's philosophy for a great meal is simple: fresh, local, organic, seasonal and sustainable. Chef Bette is a dynamic personality offering tours, tasting and insight into the culinary bounty of the Pacific Northwest and beyond. http://www.welltraveledfork.com/
Straw Propeller Gourmet Foods
Delectable gourmet instant oatmeal for families on the go! http://www.strawpropellergourmetfoods.com/
Mt. Hood/Gorge:
Pfriem Brewery
Oregon's newest craft brewery, located in Hood River was recently named "Best Newcomer" of 2012 in the Pacific Northwest by SIP magazine. @PfriemBeer http://pfriembeer.com/
Packer Family Orchards and Bakery
Cooking up homemade pear-fection with fresh seasonal orchard fruits and mouth-watering freshly baked cookies. They also offer homemade (yes, they make all their products on site) jams, jellies, butters, sauces, syrups, pie fillings, cookies and so much more. @packerorchards http://www.packerorchardsandbakery.com/
Temptress Truffles
Bringing you the best local fungi and wild harvested forest products, truffles hold a special place in their hearts. Find them at the West Linn, Irvington and World Trade Center farmers markets. @OregonTruffles; http://www.temptresstruffles.com/
Happyrock Coffee
This small-batch roastery in the Heart of Gladstone, roasts and brews premium original coffee and makes unique and delicious coffee creations. @HappyrockCoffee http://www.happyrockcoffee.com/
Coast:
Ben Jacobsen Salt
After living in Scandinavia for over four years and falling in love with sea salt there, Ben Jacobsen moved back to the Pacific Northwest, and much to his avail couldn't find any locally produced salts. So he decided to make his own. Fast forward a year and a half and Jacobsen is paving the way for Northwest salt, stocking local markets and restaurants. Using traditional methods, his flaky sea salt is harvested in Netarts Bay, Oregon. @JacobsenSaltCo https://www.facebook.com/JacobsenSaltCo
FISHES Sushi & Japanese Cuisine – new sushi bar in Cannon Beach
Opening FISHES, Cannon Beach's first sushi bar, is a dream for Chef John Newman and his wife Sandy. The Japanese inspired cuisine draws on John's experience at Silks Restaurant in the Mandarin Oriental Hotel in San Francisco and FISHES Seafood and Steaks in Pacific City. Along with sushi and sashimi you'll find tempura, noodles, and plenty of seafood on the menu. Chef Newman is focused on using sustainable seafood and the finest, freshest ingredients the North Coast has to offer. One of Oregon's premiere chefs, John Newman also owns Newmans at 988, the revered French-Italian eatery in midtown Cannon Beach. www.fishes-sushi.com
Coastal Mist artisan chocolates and desserts – in Old Town Bandon
If you're in the mood for a sweet indulgence, don't miss Coastal Mist chocolate boutique in Bandon's historic Old Town on the southern Oregon coast. The artistry of Coastal Mist's lovingly handmade chocolates and European inspired desserts is truly a delight to behold. Everything is impeccably crafted on site. And local ingredients inspire unique flavors - smoked sea salt caramel, strawberry balsamic, blood orange with Oregon honey. One bite and you know owners Kevin and Tara Shaw learned the fine art of chocolate making in Belgium. Can't get to the coastal town of Bandon, Oregon? No worries, Coastal Mist ships nationwide and their sophisticated website shows you every delicious detail. @CoastalMist_OR www.coastalmist.com
Executive Chef Sharon Wiest, Culinary Institute - Lincoln City
Executive Chef Sharon Wiest shares her passion with hands-on and demonstration-style classes focused on seasonally-inspired cooking and the abundant locally grown foods of the Pacific Northwest. Classes range from Mexican and Mediterranean small plates, cooking with mushrooms, hands-on cheesemaking and pasta workshops to Oregon's vast array of fresh seafood and shellfish. For her own pantry, Wiest likes to can fresh albacore tuna, caught just off the coast. She relocated from Cincinnati in 2008 to the beautiful Oregon coast (for the oysters, of course!) http://www.oregoncoast.org/culinary/
Rockfish Bakery – Lincoln City
Rockfish bakers specialize in an amazing array of artisan breads, pastries, sourdough crusted pizza, and the "world's best cinnamon rolls." This quaint, creative café serves breakfast and lunch on all-organic house-baked fresh breads, accompanied by organic, free-trade cafe Mam coffee and espresso. TheSandwich Special changes weekly, using the freshest ingredients to make uniquely divine combinations. www.rockfishbakery.com/
Pelican Pub & Brewery – Pacific City
3 time Great American Beer Festival "Brewpub of the Year"
Perched on the water's edge on the majestic Oregon Coast, The Pelican Pub & Brewery has become a Northwest landmark for craft beer. Whether it's a pint of India Pelican Ale, MacPelican's Scottish Style Ale, Tsunami Stout or Kiwanda Cream Ale, Brew Master Darron Welch has created countless award-winners.
At the Live Blogging event, Pelican will pour its newest creation, Silverspot IPA, set for release on August 21. With its brilliant gold color and assertive hop aroma, this highly drinkable English-Style IPA draws on herbal, floral, and tangerine-like characters. Silverspot IPA celebrates the Oregon Silverspot butterfly, which once flourished in coastal grasslands from Washington to California. A portion of the proceeds from the sale of this beer will help fund conservation efforts for the Oregon Silverspot Butterfly.Drink a beer, save a butterfly! Look for Silverspot IPA in the market starting September 6. @thepelicanpub www.PelicanBrewery.com
Darron Welch, Brew Master
Stephanie Starostka Welch, Media contact
ssw@nestuccaridge.com 503.965.7779 ext 307
Fishing Vessel Sonja's Albacore Tuna - Astoria
Owners Dave & Eija Helen Stevenson
Troll caught off the Oregon coast near Astoria, Oregon, F/V Sonja Albacore Tuna is the freshest tuna you can buy in a can. Dave Stevenson, owner and skipper of F/V Sonja for over 25 years, and his wife take great pride and care in handling every tuna catch, from boat to custom canning. Oregon Albacore are a highly prized member of the tuna family
- younger fish, environmentally harvested, with the highest concentrations of heart-healthy Omega-3 fatty acids. Local custom canning allows the fish to be cooked in their natural juices, retaining all the healthful fish oils and taste. The result is moist, tasty and delicious, and loaded with heart-healthy Omega-3 fatty acids, protein and minerals. www.sonjainc.com/
Willamette Valley:
Chocolate Decadence
Chocolate Decadence was founded in 1996 in Eugene, Oregon, by Sam Melner, a self-described chocoholic. Sam worked out of a tiny kitchen for 13 years, always striving to discover new recipes to bring decadent chocolates to the vegan community.
Today, Chocolate Decadence continues the tradition of providing some of the best vegan chocolates available. We have earned a loyal customer following throughout the United States and Canada. Our customers truly enjoy the high quality and delicious taste of our products. http://www.chocolatedecadence.com/about-chocolate-decadence
Schmid Family Farm
A small family-owned and operated Marionberry and Organic Blueberry farm located in the Whisky Hill area east of Hubbard, Oregon, they grow all of their berries sustainably and with natural practices. @schmidfarm http://www.schmidfamilyfarm.com/
Pacific Hazelnut Candy Company
The first hazelnut tree in historic Aurora, Oregon was planted around 1857. Now, at least 98 percent of the country's hazelnuts are grown in Oregon's lush Willamette Valley. Pacific Hazelnut Candy Factory has developed a tradition of quality and service. Care is given to grading nuts through product development in the kitchen to assure consistent fine products. In addition to roasting and seasoning nuts, they also chocolate- coat hazelnuts, almonds, walnuts, prunes and pretzels. Their hazelnut toffee was recently featured in Bon Appetit magazine.
Eastern Oregon:
Wheat Springs Bakery
Wheat Springs Bakery has a unique wheat berry air-popping technique coupled with the use of fresh, locally grown ingredients to make versatile, sustainable, and wholesome snack choices for the whole family. @9rocksvodka http://wheatspringsbakery.com/about-us
9Rocks Vodka from Black Rock Distillery
Black Rock Distillery is located in the heart of central Oregon. 9 Rocks Vodka is smooth with a distinctive flavor: light, but not a lightweight. And what makes the vodka taste even better? While you are enjoying your 9 Rock Vodka you'll be benefiting the economy of a rural Oregon community. http://www.9-rocks.com/
Portland:
Olympic Provisions is home to Oregon's first USDA-approved salumeria, established in 2009. With two locations in beautiful Portland, Oregon, both Olympic Provisions operate as European-style restaurants, bustling neighborhood delis, and onsite meat-curing facilities. @OPpdx http://www.olympicprovisions.com/about/
Statewide:
Nicky USA
"Our goal is to provide the widest variety of sustainable, free range game birds & meats. In doing so, we strive to enhance the public's culinary education & titillate their palate with exquisite game. In attempting to offer meats of such quality, we feel that we are not only helping to care for the land that sustains us, but furthermore, helping chefs & epicureans come as close to the farm as possible."
- Geoff Latham, Owner & President @nickyusa http://www.nickyusa.com/
Oregon Raspberries and Blackberries
Oregon farmers have been growing the finest blackberries and raspberries for over 100 years. The cool springs and warm summers of the region allow Oregon berries the time to mature slowly developing exceptional taste and sweetness. Naturally high in antioxidants, vitamins and fiber, Oregon berries are loaded with health-giving properties. Fresh-frozen within hours of harvest to lock in all the goodness and taste, our berries are available year round so you are never far from the sweet taste of the great northwest. http://www.oregon-berries.com/
Who Should Attend
Bloggers, Food Writers & Cookbook Authors
Publishers, Agents & Editors
Food Brand / Restaurant Marketers
Public Relations Professionals
Registration
IFBC 2013 Registration
For non-blogger participants: industry, media relations professionals, etc.
Fee: $395
IFBC 2013 Discounted Blogger Registration*
For active bloggers
Fee: $95
*New in 2013! See registration for qualifying details.
Food Bloggers Register here!
Fee: $95 for Food Bloggers, $395 for Non-Bloggers
Including gourmet food and drinks!
Conference Information
Subscribe to the IFBC Mailing List