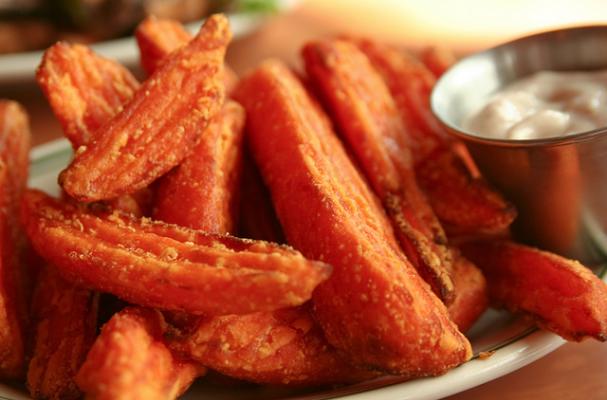 Sweet potatoes are an iconic autumn side dish. From marshmallow-covered cassroles at the Thanksgiving table to sweet potato fries, soups, curries and more, nothing says "comfort food" like this bright orange root vegetable. A cousin of the potato and quite different from the yam, sweet potatoes are a nutritious and delicious addition to your autumn menu! Here are 3 of my favorite gluten free sweet potato recipes to help you fall in love with this fabulous food! Happy Meatless Monday!
Healthy Sweet Potato Skins
Shallots, chickpeas and spinach fill these uber healthy potato skin "boats" - perfect for healthy entertaining!
Mexican Spiced Sweet Potatoes
Sweet cinnamon, smoky chipotle peppers and a dash of cayenne pepper make this creamy-sweet-spicy side dish a must try! Milk/dairy free & vegan.
Roasted Sweet Potato and Coconut Soup
A classic combination! Lightly sweet and incredibly creamy, this delicious soup is perfect for autumn entertaining! Milk/dairy free & vegan (just sub. vegetable stock!)
Image Sources: