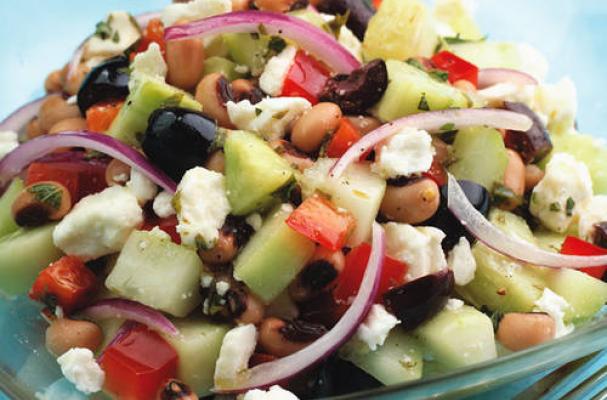 Springtime is the time for grilling and tasty salads! This delicious Greek-inspired salad is packed with black-eyed peas, cucumbers, red bell pepper, feta cheese and more. Serve on a bed of lettuce for a light lunch or alongside grilled steak or chicken. For other yummy versions try white beans or chickpeas.
Black-Eyed Pea and Cucumber Salad
Courtesy of RecipeRehab
Serves 6
3 tablespoons extra virgin olive oil
2 tablespoons lemon juice
2 teaspoons fresh oregano, chopped (or 1 teaspoon dried)
Ground black pepper, to taste
4 cups English cucumber, diced
14 ounces canned black-eyed peas, rinsed
2/3 cup red bell peppers, diced
1/2 cup cheese, feta, crumbled
1/4 cup red onion, thinly sliced
2 tablespoons black olives, chopped
Whisk oil, lemon juice, oregano and pepper in a large bowl until combined. Add cucumber, black-eyed peas, bell pepper, feta, onion and olives; toss to coat. Serve at room temperature or chilled.