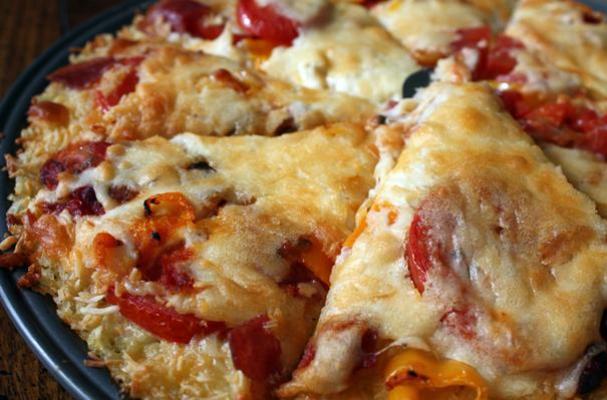 Craving pizza but don't want (or can't have) the dough? We think this Asia meets Italy rice crust pizza from Cafe Nilson is a brilliant idea! It has all the tasty ingredients you want on your pie but with a delicious alternative crust. Want to make it vegan? Use a sticky rice (we like sweet brown rice) to eliminate the egg and top with your favorite dairy-free cheese and meat alternative.
Tomato and Bacon Pizza With Rice Crust
Submitted to Foodista by Cafe Nilson
Serves 8
For the rice crust:
2 cups cooked rice
1 egg
1 cup mozzarella cheese
1 tablespoon Italian seasoning
For the topping:
2 ripe tomatoes, sliced into rounds
At least 6 strips of turkey bacon, cut into 2 inch pieces
2 cups mozzarella cheese, shredded
2 bell pepper, sliced
Preheat oven to 400F.
To make rice crust, mix ingredients in a bowl. Press onto greased pizza pan (10 inch) evenly.
Spread bacon, tomatoes, pepper and mozzarella cheese on top of rice crust.
Bake for 20 minutes or until cheese melts.
Slice and serve warm.