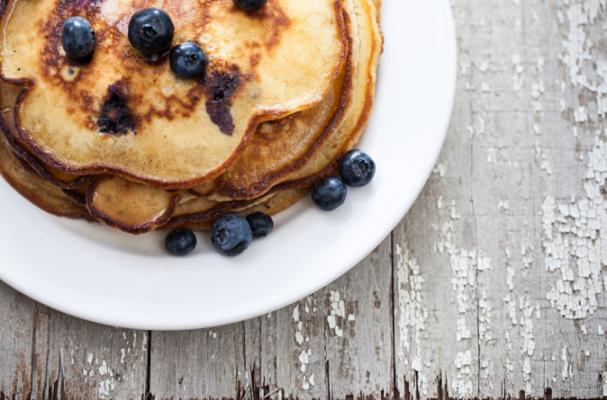 Scrumptious fluffy pancakes are just minutes away! This healthy pancake recipe is packed with protein and boosted with chia seeds, the highest known plant source of omega 3s and omega 6s and a powerhouse of antioxidants and anti-inflammatory properties. Chia seeds also help detox and energize the body. These tasty pancakes are a healthy start to your day!
Protein Pancakes in 10 Minutes
From Veria.com
Makes 2 large pancakes. 53 grams of protein for the stack!


1/2 cup of old fashioned oats
1 scoop of natural whey protein powder (28 grams)
2 tablespoons of plain Greek yogurt
2 tablespoons of unsweetened natural applesauce
2 tablespoons of unsweetened vanilla almond milk
2 egg whites
1/2 teaspoon of vanilla extract
1/4 teaspoon of baking powder
1 tablespoon of chia seeds
Maple Protein Topping Ingredients:

2 tablespoons of plain Greek yogurt
1 tablespoon of sugar-free maple syrup
Raspberries for garnish
Combine all the pancake batter ingredients to a mixing bowl. Whisk vigorously until everything is mixed well.
Spray a frying pan with a natural cooking spray or alternative, and add 1/2 the batter to the pan on medium heat. Cook for 3 minutes and flip, cooking for an additional 2 minutes.
Top with the mixed maple protein topping and sprinkle with raspberries for a chocolate raspberry protein breakfast.