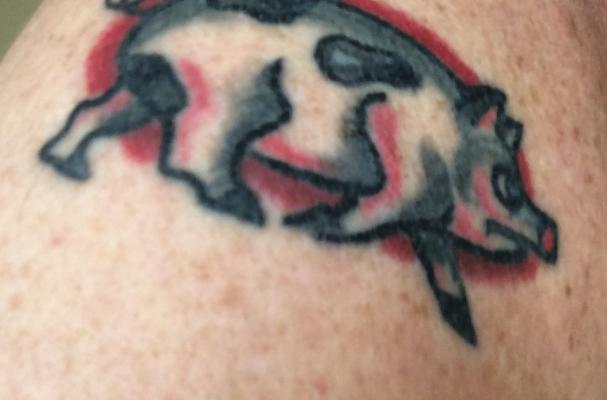 Hey! That's my Sailor Jerry Tattoo on my arm and it goes to illustrate that all Sailor Jerry is not rum. Not at all. Sailor Jerry was a famous tattoo artist during World War Two. His real name was Norman Collins, yet he was better known as Sailor Jerry to those who sought his artistic zeal.
I love his designs and especially the fine work done by Downtown Tattoo in New Orleans. Thank you.
Sailor Jerry Rum is inspired by the work of Norman Collins. It's not just a plain rum, juiced up to higher alcohol levels with dubious ingredients added. What Sailor Jerry is would be more akin to the spiced rums that followed the pirates and buccaneers around the Caribbean.
After all, spiced rum as a genre did not start with Sailor Jerry. That honor is fuzzy at best, but the Dutch island of Saba is well known for their fine spiced rums. Sailor Jerry happens to taste very similar to some of the home-made rums I've tried while sailing around Saba.
The spiced rums from this island fit many descriptions, but all of them are good.
Sailor Jerry Spiced Rum is to my palate an excellent rum for sipping or even folding into a punch. Which is perfect since tomorrow, June 12th, is Sailor Jerry Day!
In honor of the father of the old-school, American Tattoo, Norman Collins- and Sailor Jerry Rum- I create something with a purely South Sea feel.
To honor these nameless sailors and give a tip of the hat to Norman Collins, Mr. Sailor Jerry himself would be my honor.
But first what is punch? Punch my friends is alcohol, some kind of sugar, water, spices and fruit juices. This punch is unique with respect to a couple of the ingredients.
The major component to this punch is the ice itself. I took coconut water and froze it in a 60/40 combination (coconut water to spring water)
The next major difference in my punch from all others is the grilled pineapple juice. There is something lush and pleasurable about drinking pineapple that has first been charred before juicing.
The final difference is the use of 'Okolehao' which is distilled from the Ti Root in Hawaii. Without this essential ingredient, your punch will be good, but not as good as it can be. Just like Norman Collins, said... His work was not cheap, but it was the best...
The Pentland Firth Punch - note: all juices must be freshly squeezed- and ice shall be block ice instead of cubes
Ingredients:
For at least ten persons with refills....
1 quart Orange Juice
1 quart Pink Grapefruit Juice
1/2 quart Lemon Juice
2 quarts Grilled Pineapple Juice- slice pineapples into rounds and either grill over charcoal, or sear in a cast iron pan- cool, and then juice to yield 2 Quarts
1/2 quart lime juice
2 bottles Sailor Jerry Spiced Rum
1 bottle Okolehao- it's available, you'll have to look for it...
1 bottle Ginger Ale
Angostura Bitters
Prep:
grill your pineapple over charcoal, cool and juice
Add the ice block made of coconut water and spring water
over the ice in a punch bowl, combine the juices and the liquors with the ginger ale
Treat your punch to at least 20 shakes of Angostura Bitters, stir well...
Serve!