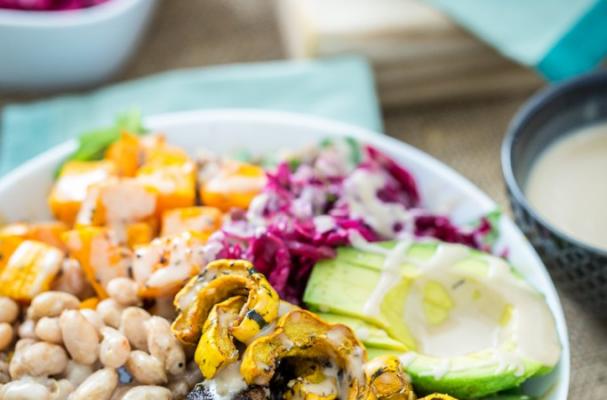 Vegetable bowls are a versatile meal that have an unlimited amount of options. You can taste the food from any part of the world by seasoning them with spices from that country. The key to an awesome bowl is making sure that each ingredient tastes delicious. That means selecting the ripest mango or seasoning the broccoli perfectly. These vegetarian bowl recipes are proof that these meals are delicious and nutritious.
Korean Barbecue Tofu Bowl
Recipe from Oh My Veggies
This amazing vegetarian bowl travels east and incorporates stir fried vegetables with Korean barbecue glazed tofu and quinoa. You can change the assortment of vegetables based on what you have available in your fridge. This recipe suggests using red bell pepper, broccoli, pineapple, and zucchini.
Indian Spiced Burrito Bowl
Recipe from The Spiced Life
Indian spiced burrito bowls are a unique way to experience the flavors of India. While this recipe is not initially vegetarian, it contains ground turkey, you can easily omit it. Basmati rice is piled high with cauliflower, chickpeas, peas, caramelized onions, and cranberry chutney. If cranberry chutney is unavailable, feel free to substitute with tamarind chutney.
Veggie Quinoa Bowl
Recipe from I Love Vegan
If you are plagued by the winter blues, this veggie quinoa bowl is a bright and cheerful meal that will change your mood. Chili-lime kale, garlic roasted broccoli, curry roasted sweet potato rounds, and roasted soy sauce and sriracha chickpeas sit on a bed of perfectly cooked quinoa. Every independent bite is exploding with flavor and the combination is dynamite.
Roasted Rainbow Winter Bowl
Recipe from Keepin' It Kind
Conventional wisdom states eating the rainbow is part of a healthy diet. Not only is this meal beautiful but it is also nutritious. Brightly colored roasted delicata squash and butternut squash are paired with vibrant green avocado, deep purple pickled cabbage, and earth toned mushrooms and beans.
Tropical Lentil Lunch Bowl
Recipe from Sweet Peas and Saffron
If you are need of a tropical getaway, then this lentil bowl is a temporary fix until you can get on a plane. Lentils are a complete protein and perfect substitute for animal protein. Sweet tropical fruit, including mango and pineapple, is mixed with shredded carrot, red bell pepper and crunchy cashews. The creamy coconut-lime dressing brings the whole dish together and adds another layer of tropical flavor to the bowl.
Image Sources: