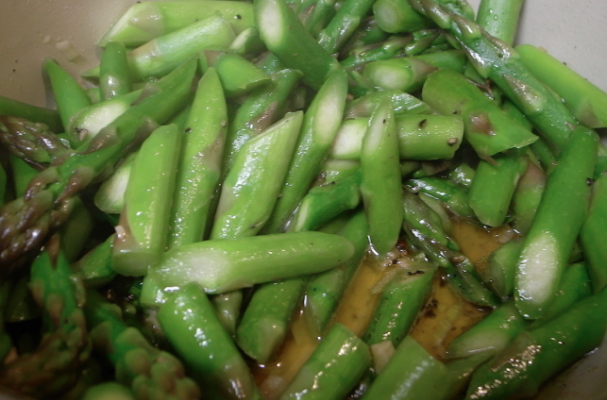 Stir fried sesame asparagus is a quick and easy side dish that comes together in under ten minutes. The asparagus is seasoned with garlic ginger, soy sauce, red pepper flakes and sesame oil. You can build on this recipe by adding protein such as pork tenderloin or shrimp or other vegetables including onion and red pepper. You and your family are going to love this simple and straightforward side dish.
Quick and Easy Stir Fired Sesame Asparagus
Ingredients:
1 tbsp of vegetable oil or other flavorless oil
1 lb of Asparagus, trimmed and cut into 2 inch pieces
4 garlic cloves, finely minced
1 tbsp ginger, finely minced
1 tsp crushed red pepper flakes
1 1/2 tbsp of low sodium soy sauce or more to taste
1/2 tsp of toasted sesame oil or more to taste
1 Tbsp of white sesame seeds
Directions:
Step 1: Heat the vegetable oil over medium high heat in a large saute pan or wok. Add the ginger and garlic and cook 30 seconds until fragrant. Next, add the trimmed asparagus and cook until the spears are tender, stirring continuously, about 5 minutes.
Step 2: Add the red pepper flakes and soy sauce and continue stirring. Cook another 30 seconds. Add the sesame oil and sesame seeds and remove from heat.
Step 3: Serve hot with steamed rice.
Image Sources: