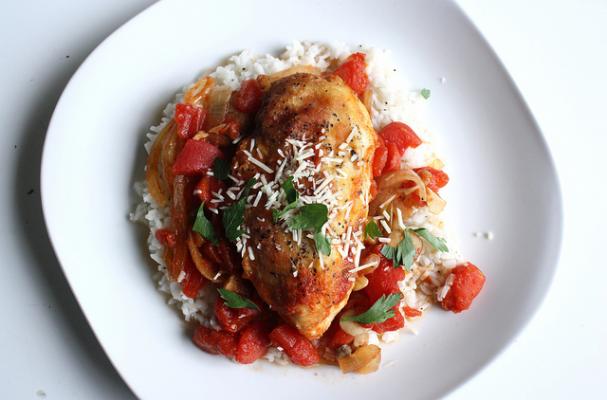 Chicken cacciatore is prepared "hunter's style" or braised with tomatoes, onions, mushroom and bell pepper. This chicken recipe uses both light and dark meat but feel free to use only one or the other. I like to serve this dish with either rice or pasta. Fresh herbs are essential to this dish because they brighten the flavors of the sauce. Chicken cacciatore is a comforting dish that can be made any night of the week.
Ingredients:
4 chicken thighs, bone in
2 teaspoons Salt, or to taste
1 teaspoon pepper, or to taste
2 tablespoons olive oil, plus more if needed
½ cup flour
1 large onion, chopped
1 large red bell pepper, chopped
6 cloves garlic, crushed
10 fresh mushrooms, quartered
1 (28 ounce) can tomatoes, drained and coarsely chopped
½ cup dry white wine
1 ½ teaspoons dried oregano
Parmesan cheese, to taste
¼ cup Fresh basil leaves, coarsely chopped
For full recipe instructions, click below
Image Sources:
Want more from Foodista? Sign up below!