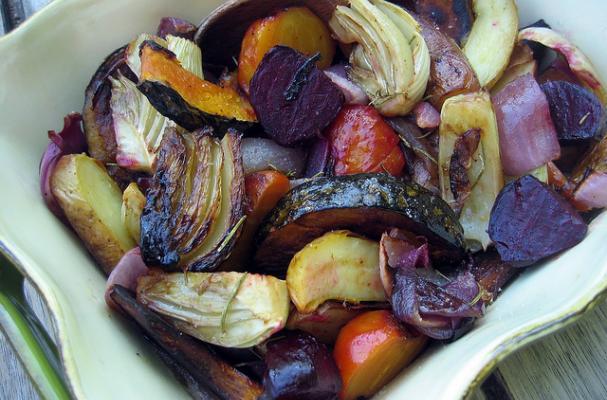 One of the best parts of grilling is the kitchen remains clean. During the week I'm all for easy dinners, easy cleanup. But simple doesn't have to mean sacrifice on flavor. A few basic ingredients like fresh herbs and citrus can make a dish shine. Fresh parsley and lemon zest add a bright pop of flavor when tossed with baby roasted potatoes, and a good fruit or mint-infused vinegar can jazz up any fruit salad, like my Minty Watermelon and Blueberry Salad with Feta. Below are some easy recipes that you can enjoy any night of the week. Try our Herb and Citrus-Stuffed Trout (super easy and inexpensive!), a lovely Italian Roasted Chicken, and a delish Marinated Flank Steak with Orange Gremolata.
Sweet and Savory Chinese BBQ Chicken Skewers
Photo by Another Pint Please
These tasty chicken skewers take just minutes to grill up (plus marinating time) and have the wonderful sweet and savory flavors of Asia. Grill some veggies skewers alongside them and you have a complete meal the whole family will love!
Marinated Flank Steak with Orange Gremolata
Photo by The Bitten Word
It's best to marinate the meat for a few hours, but once that's done this dish takes just minutes to make. So get started in the morning for dinner in the evening!
Italian Roasted Chicken
Submitted to Foodista by Thibeault's Table
Roasting a chicken provides more than just one meal! Leftover meat is excellent in salads, sandwiches, stir-fries, and an endless list of easy meals. Tip: Save the bones of this lemon rosemary chicken to make a flavorful stock that's perfect for soups, pot pies, chicken and dumplings and more.
Easy Roasted Red Potatoes with Parsley and Lemon Zest
We love jazzing up roasted potatoes with fresh herbs like parsley and generous zesting of lemon.
Lemon and Herb-Stuffed and Grilled Trout
Shh, don't tell anyone, but this stuffed whole trout recipe is so easy to make your guests will think you went to culinary school on the side! It's also an inexpensive and healthy meal. Stuff the fish with a combination of your favorite herbs, we used parsley and fennel fronds, then add onions and sliced lemon for a bright and vibrant flavor. Grill them up on each side for just a few minutes and you have an easy and oh so elegant meal!
Balsamic Roasted Vegetables
Toss any ensemble of vegetables with olive oil and a generous splash of balsamic vinegar then roast them up in the oven or on the grill. They're excellent as a side dish or served over grains such as farro.
Quick and Easy Oven-Roasted Cherry Tomatoes with Fennel and Onions
Slice fennel and onions, add whole cherry tomatoes and toss with olive oil. Roast in the oven for about 40 minutes and you have a super healthy side dish that's wonderful alongside grilled meats and fish. We served these with our grilled stuffed trout above.
Atún a la Vercruzana: Easy Veracruz-Style Tuna
A few simple ingredients like tomatoes (we used canned), garlic, onions, oregano, tomatoes, and capers are all you need to make this quick and easy tuna recipe. We used a fresh albacore tuna loin, but any fresh and firm white fish would be wonderful in this dish.
Minty Watermelon and Blueberry Salad with Feta
Fresh mint and mint-infused oil add a pop of bright flavor, and the salty tang of feta balances the sweetness of the fruit. Scoop the flesh of the melon out and serve it in the melon bowl for a beautiful presentation.
Easy Grilling Recipe: Bruschettone di Salmon
We created this twist on an Italian classic antipasto, bruschetta (pronounced bru-sketta), a simple snack of garlic-rubbed grilled bread topped with tomatoes, and turned it into a meal. Our bruschettone (pronounced bru-ske-toe-nay), literally "large bruschetta," is topped with a simple tomato puree, thin slices of salmon, and lemon zest. It's grilled just long enough for the bread to toast and the salmon to lightly cook. The perfect light and healthy meal, especially when served alongside a simple green salad.