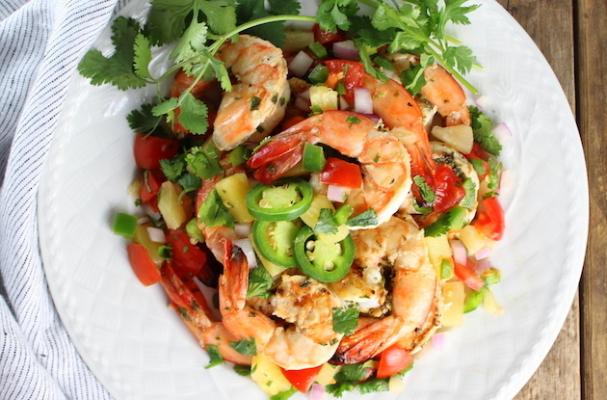 Marinated in cilantro, lime, and garlic, these shrimp come off the grill with the perfect amount of flavor. Add to that, the salsa is a mix of spicy and sweet with Jalapenos and pineapple. It's just the right blend of flavors to make this your go to meal for a quick and easy summer supper.
Do you cook on the grill when it's hot out? Here in Maine, we keep that grill going as long as the snow doesn't cover the lid. Shrimp is easy too; marinate it and grill for mere minutes. So fast from grill to table. You are going to love this recipe!
Grilled Cilantro Lime Shrimp with Pineapple Salsa
Contributed to Foodista by Taste and See
Ingredients:
For The Shrimp:
1½ pounds fresh shrimp, peeled and cleaned
4-5 tablespoons fresh lime juice (about 2 limes)
⅓ cup fresh cilantro, finely chopped
1 tablespoon olive oil
3 medium garlic cloves, minced
For The Pineapple Salsa:
2 tablespoons finely minced red onion
⅓ cup pineapple chopped into bits (or buy canned "pineapple tidbits" in 100% pineapple juice)
4 campari tomatoes, chopped, with their juice
Image Sources:
Want more from Foodista? Sign up below!