Premier Sponsors
For Sponsorship Opportunities please contact
Reno Walsh
406-580-5919
or
IFBCSponsors@foodista.com
Expand Culinary Possibilities with Davidson's Safest Choice® Pasteurized Eggs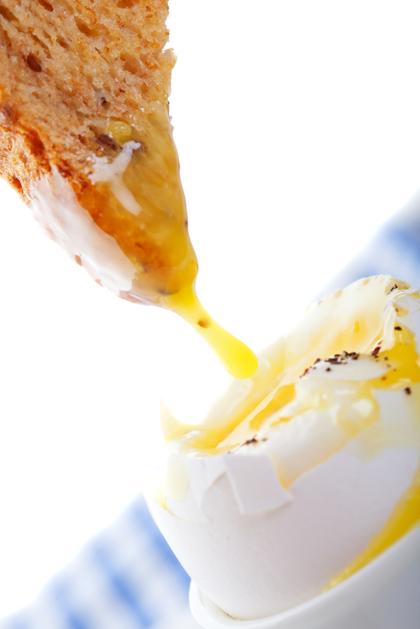 Most of us have seen, and drooled over, beautiful food blog photos of a runny yolk egg. But, did you know that fresh eggs are just about the ONLY food in the grocery dairy aisle that's not pasteurized? And that four out of five Salmonella Enteritidis foodborne illness (food poisoning) cases come from raw or undercooked eggs?
Well, not every egg is created equal. Davidson's Safest Choice® eggs eliminate the risk of Salmonella through a gentle water bath pasteurization process. The process is all-natural, only involving heat and water, no chemicals or irradiation.
Now, you can enjoy your eggs any way you like! Think of the culinary possibilities when you can safely use and serve a recipe calling for raw or undercooked eggs. Enjoy runny yolks, sauces such as hollandaise and béarnaise, and homemade mayonnaise, ice cream and Caesar salad dressing without worry! Safest Choice™ pasteurized eggs are all vegetarian, contain no hormones or antibiotics, and certified Kosher.
Special Egg Giveaway!
Safest Choice would like to share our delicious pasteurized eggs with you and your readers! By filling out our online Egg Survey, IFBC bloggers are eligible to receive 52 free dozen coupons for Safest Choice eggs to give away on their blogs—that's an entire year's worth! To take advantage of this special opportunity you must fill out the survey and mention IFBC when answering the question, "How did you hear about Safest Choice eggs?"
And, stay connected with Safest Choice online:
Follow Us on Twitter, Like Us on Facebook, watch how-to videos on YouTube and check out our blog.
Davidson's Safest Choice® pasteurized eggs is proud to sponsor a table at the "Evening Taste of Oregon and Gourmet Trade Show" at the 2012 International Food Blogger Conference and we look forward to meeting you on Friday, August 24th!
Guest Post Disclaimer: This post was provided by Safest Choice Eggs. We're proud to have them as a sponsor of this year's International Food Blogger Conference!
Who Should Attend
Bloggers, Food Writers & Cookbook Authors
Publishers, Agents & Editors
Food Brand / Restaurant Marketers
Public Relations Professionals
Registration
IFBC 2013 Registration
For non-blogger participants: industry, media relations professionals, etc.
Fee: $395
IFBC 2013 Discounted Blogger Registration*
For active bloggers
Fee: $95
*New in 2013! See registration for qualifying details.
Food Bloggers Register here!
Fee: $95 for Food Bloggers, $395 for Non-Bloggers
Including gourmet food and drinks!
Conference Information
Subscribe to the IFBC Mailing List