Things get hectic on Thanksgiving day and the last thing we want to spend precious time on is an elaborate appetizer spread. Those just spoil the appetite anyway! When it comes to holiday entertaining my philosophy is "half-homemade/half store-bought." Don't have time to make your own fresh Hummus? Buy a plain version and dress up the top with some herbs and a flavorful olive oil. In less than 10 minutes you can make your own Herb and Spiced Goat Cheese. Or, throw mushrooms in balsamic vinegar for some delicious Rosemary Thyme Marinated Mushrooms. Below are some more of my favorite easy, crowd-pleaser holiday appetizers that you can make without breaking a sweat.
Easy Herb and Spiced Goat Cheese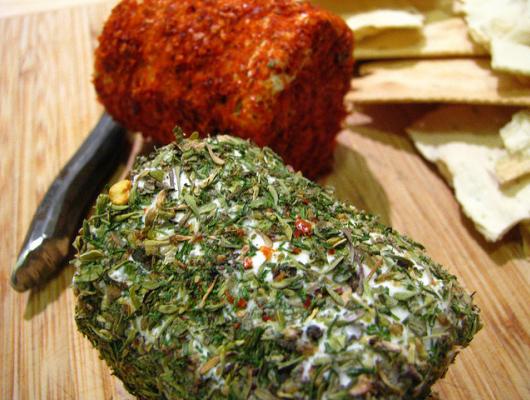 Dukkah
Thisdelicious Egyptian nut and spice blend is excellent served with olive oil-dipped bread.
Quick and Easy Hummus
Photo: La.Blasco
Homemade Parmesan Thyme Crackers
Rosemary Thyme Marinated Mushrooms
Blue Cheese Stuffed Peppadew Peppers
Holiday Spiced Nuts
Photo: WhitneyinChicago
Easy Brazilian Cheese Puffs (Pao de Queijo)
Just 3 ingredients! An,d they're gluten free!