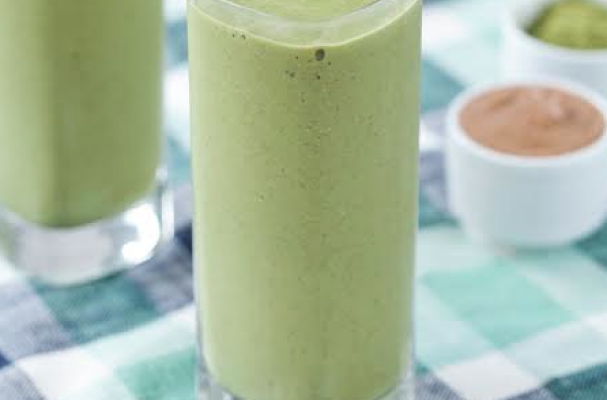 Almond matcha superfood smoothie from Against All Grain packs a nutritional punch. Green smoothies usually fall into one of two categories: watery and juicy or thick and creamy. This recipe is part of the latter group. The smoothie is whipped up with almond milk, almond butter, chia seeds, kale, fruit and green tea powder. If you really want to sky rocket the protein content, you can always add a couple scoops of hemp seed powder. This is the last article in our series with Danielle Walker but make sure to check out her other amazing gluten-free recipes on this blog and her own.
Almond Matcha Superfood Smoothie
Courtesy of Against All Grain
Serves 2
Ingredients:
1 1/2 cups unsweetened almond milk
1 cup baby kale, packed
3/4 cup frozen pineapple
1/2 cup frozen mango pieces
1 medium frozen banana
2 tablespoons unsalted natural almond butter
1 tablespoon matcha green tea powder
2 teaspoons chia seeds
1/2 teaspoon vanilla extract
Directions:
Step 1: Combine all of the ingredients in a blender. Blend on high until smooth. Serve immediately.
Image Sources: