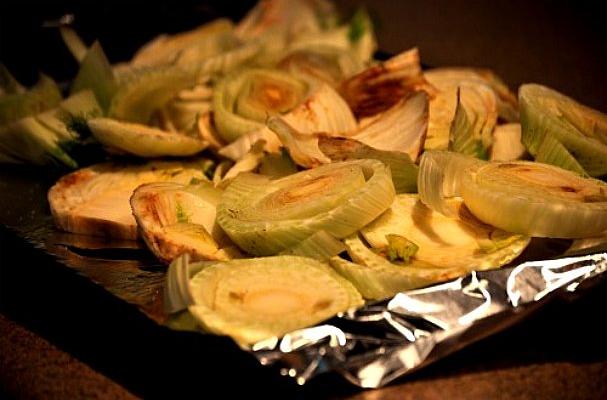 I've always loved the fresh scent of fennel and I've recently had a yearning to start adding it to my warm-weather recipes. It must be something about this summery June weather that has me excited for the crispy sweetness of this delicious, unique veggie. I'm always thinking outside-of-the-box and trying to create fun spins on classic recipes; that's why I've decided to challenge myself this summer with fennel. I often use fennel seeds in many of my dishes to add pungent flavor, however it just dawned on me earlier this month that I never tried experimenting with this rare treat that's always starring me in the face at the farmers market.
When I first moved to Manhattan many years ago my roommate introduced me to fennel. I remember walking into our apartment to the fabulous scent of licorice basking away in the oven. Thinking back to those tasty memories, I decided to do a little experimenting myself and baked up a batch of fennel in the oven to create a weeks worth of meals with this tasty, sweet bulb.
I simply sliced the bulbs into disk-like shapes approximately 1/2 inch thick. I stood the bulb on the root end and sliced vertically. If you want the fennel disks to stay together for baking or grilling, you can simply keep the root end intact, otherwise you can trim 1/4 inch off the root end before cooking. I enjoy cooking the stalks, as well, therefore I slice the white bulb and the green stalks and toss them all into the oven.
After the fennel is cooked, you can use it in place of celery in soups and stews. I enjoy tossing fennel into fresh salads with apples, chia seeds, avoacdo, pine nuts, mango and dried cranberries. During the holidays, fennel can be used when roasting chicken, tofu, turkey and meats. I enjoy saving the grassy fronds to use as a garnish atop fresh fish dishes, chutneys and salsa along with other fresh herbs such as cilantro and basil.
The entire fennel plant is edible so you can't go wrong tossing the bulbous base, stalks and feathery leaves into any dish from homemade zucchini bread, raw salads, cooked grains and vegetable omelets.
Here is my latest fennel recipe that I created this week. These crisps are easy to make and can be whipped up in mere minutes in the oven or on the grill. So, what are you waiting for? Spice up your summer with this licorice-flavored member of the parsley family and set your taste buds up for a fennel party.
For the complete recipe and instructions for Baked Vegan Fennel Crisps click below: