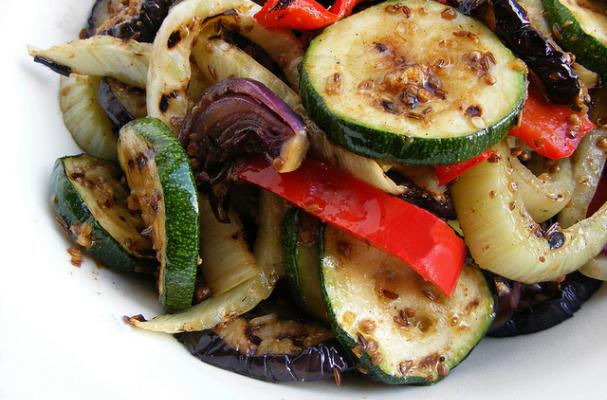 Roasted vegetable sandwiches are part of my kitchen repertoire. I change my vegetables depending on what is in season. For summer, I like to use eggplant, tomato, zucchini, peppers, or whatever else pops up in the garden. I sometimes change it up by grilling the veggies instead of roasting them. Don't let all the vegetables deceive you, these sandwiches are hearty and satisfying.
Ingredients:
1 small eggplant, peeled and sliced thick
1 sweet red pepper, quartered
1 medium tomato, halved
1 small onion, sliced thick
2 tablespoons olive oil
2 teaspoons minced garlic
½ teaspoon dried rosemary, crushed
1 round loaf Italian bread (8" diameter)
2 tablespoons nonfat plain yogurt
3 tablespoons balsamic vinegar
2 teaspoons grated Parmesan cheese
½ cup spinach leaves, tightly packed
For full recipe instructions, click below
Image Sources:
Want more from Foodista? Sign up below!